06-01-2018, 03:49 PM (This post was last modified: 07-04-2018, 01:59 PM by Luke. Edit Reason: added dimensions pics )
[edit 04/07/2017
] The ROCKPro64 case is now
available in the store
.
I am attaching pictures of prototype NAS / Desktop/ Server (or whatever you're making) case for the RockPro64. Just in case you're wondering, the production version will come with matching
black screws
making it look neat. Once I know the exact dimensions I'll edit this post.
As for availability of the case, it should be available sooner than you might think - probably around the time the second batch of boards ship later this month.
Its a hefty - as in actually quite heavy and really sturdy - metal case with ionized black finish. Its genuinely high quality.  It has an internal mount for 4 HDDs inside:
2x3.5" HDDs and 2x2.5 HDDs
as well as a bracket for a 120mm fan. You will obviously need the PCIe SATA card sold in the Pine64 store to attach the drives. There will be a way to power those drives too - work is being on that right now (again, once I know more I'll update the thread).
There are cutouts for the USB 2.0 / 3.0 and C ports as well as GbE, HDMI, AUX jack, Power Jack, Power/ Reset buttons and PCIe cards. So, in theory you could add more storage of other high speed I/O stuff via USB 3.0 and C. In the back of the case, at the top, there are also 3 additional cutouts for BT and WiFi antennas.
Front
Back
As always, feedback and reactions are very welcome!
[03/06/2018 edit]: I am editing in a few renders of how the case will look populated with HDDs, the board itself and the fan:
(edit 2018-07-03, pfeerick, photo of production case with silkscreen from pine64 twitter feed)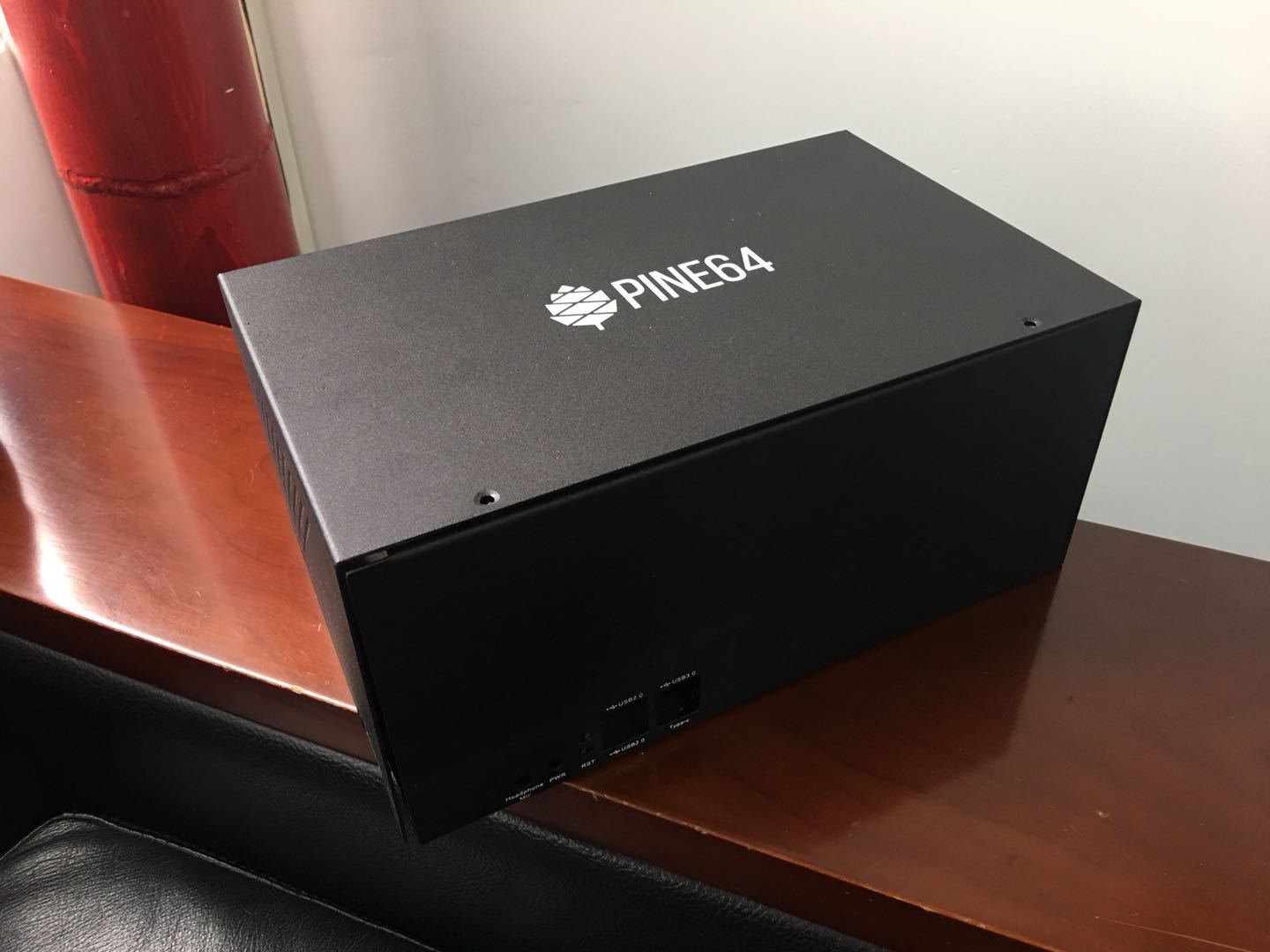 [edit 03/07/2018] case dimensions: