Come on chaps. Very funny.
I'm in NL.
This is what I'm seeing on desktop. (Similar on mobile.)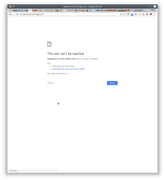 EDIT:
It's just me :
https://downforeveryoneorjustme.com/open...-chips.com
When I turn off Wi-Fi on my phone and tablet the site indeed appears. (That's what you get for working from home and being always on Wi-Fi.)
Now I need to find out why I'm blocked when I'm accessing the site on Wi-Fi.
Mumble, mumble. Maybe I said something wrong about Rock Chips. Mumble mumble. Or maybe that beautiful woman the other day was a sister of one of them. Or maybe .......... mumble mumble.