10-21-2020, 05:23 PM (This post was last modified: 10-21-2020, 06:17 PM by duncan_bayne.)
I recently purchased a EB-BJ700CBE battery from eBay, and can confirm the
FAQ note
:
Quote:There is a report that model "EB-BJ700CBE" might be incompatible
The EB-BJ700CBE is indeed physically incompatible with the
Braveheart Edition
PinePhone, due to small plastic feet on the bottom of the battery: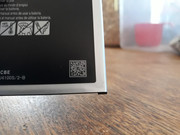 However!  A few seconds with a Dremel and a sanding drum, and the feet were no more: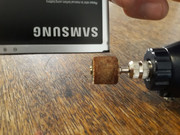 The battery now fits, and
seems
to work as expected.  To be super clear, I'm not 100% sure of the electrical compatibility, despite it appearing to work just fine (takes a charge, and runs the phone without issue). But the physical compatibility was an easy fix - just remove the little plastic feet.